The City of Arkham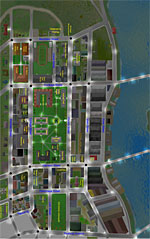 Lovecraft Country: Return to Arkham is set in the city of Arkham as originally detailed by H.P. Lovecraft and as codified by Chaosium in their H.P. Lovecraft's Arkham supplement. (The same setting was also used in the recent board game, Arkham Horror, produced by Fantasy Flight Games, with help from Skotos and a license from Chaosium.)
By clicking on the image at the right you can see a large map of the University district of Arkham, the setting of Skotos' Lovecraft Country: Arkham by Night game. Some of the activities of this comic also occur in that region.
Seth enters Arkham at the Train Station (across the river). He visits with Professor Newland at Atwood Hall (the Science building) and then checks in at the Hotel Miskatonic, on the edge of campus.
The Arkham Sanitarium, where Professor Harding is staying, is on the far side of town, past the River (explaining why Seth decides to take a room first). Seth's visit to a graveyard takes him to the Hill Street Burying Ground. Blake Street, named after author Robert Blake, is also off this map.